Welcome to the website of the Osceola Velo Club
The Osceola Velo Club (originally of Central Florida, hence the name, and now) based in Lawrence, KS is an unsponsored, USA Cycling registered, road racing bicycle club which specializes in the development of the novice road racer (road, track, cyclo-cross).
Whether you are a total newbie, an experienced racer, or just want to get "race fit," the Osceola Velo Club is the place for you.
Come learn the ropes of bicycle road racing under the guidance of a nationally licensed cycling coach and experienced road racer (road, track, cyclo-cross).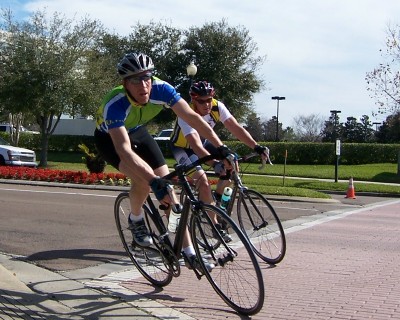 Our Mottos
"Personal Improvement," "Teamwork," and, above all, "Have Fun!"
Dave Z., 2007 Lake Mary Criterium
Club Staff

USA Cycling Licensed Level 3 Coach
NSCA Certified Strength & Conditioning Specialist
Latest Updates

05 Jul 2015 - Another road trip to St. Louis, MO to the Penrose Park Velodrome for Osceola Velo Club's Pat Schlager, this time for the Missouri State Track Championships -- Match Sprints. Pat S. clocked a personal best in the qualifying Flying 200M Time Trail and finished 1st in the Match Sprints, Masters' Category. [Pat was not eligible for the State Championship Jersey nor Gold Medal since he is an out-of-state resident.]
30 May 2015 - Osceola Velo Club's Pat Schlager drove on over to St. Louis, MO for the Missouri State Timed Track Championships held at the Penrose Park Velodrome. Pat S. competed in the 500M Individual Time Trial and "The Kilo" (1000M Individual Time Trial) before the rains hit. Pat's times were a little off from last year's, but he finished 5th in the 500M in the Masters' Category and 9th in The Kilo in the Open Catergory. The remaining timed events are to be rescheduled for a later date.
08 Feb 2015 - The dates have been set so mark your calendars for Coach Pat's Sprint Training Clinics presented by Osceola Velo Club. Area racers will have three opportunities, 16 & 30 Apr and 14 May 2015, to learn the finer points of sprinting from none other than Osceola Velo Club's USA Cycling Licensed and KCA Hall of Fame Cycling Coach, Pat "Coach Pat" Schlager. Check out USA Cycling's KS Event Page for additional information, including a link to the event flyer. See you at the clinics.
25 Jan 2015 - Big night for Osceola Velo Club at the 2014 Kansas Cycling Association (KCA) Annual Awards Banquet. Ian Pepin 1st in Kansas Best Cyclo-Cross Rider (KBCXR) for Jr Men; Conner Rainey 2nd in KBCXR for Men's Cat 4; and Pat "Coach Pat" Schlager was inducted into the KCA Hall of Fame for his contributions to Kansas cycling as a cycling coach. Here are a couple of photos of the awards.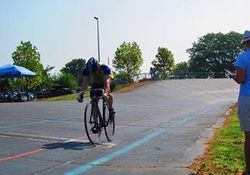 Stock photo of Pat S. racing at the Penrose Park Velodrome.