Welcome to the website of the Osceola Velo Club
The Osceola Velo Club (originally of Central Florida, hence the name, and now) based in Lawrence, KS is an unsponsored, USA Cycling registered, road racing bicycle club which specializes in the development of the novice road racer (road, track, cyclo-cross).
Whether you are a total newbie, an experienced racer, or just want to get "race fit," the Osceola Velo Club is the place for you.
Come learn the ropes of bicycle road racing under the guidance of a nationally licensed cycling coach and experienced road racer (road, track, cyclo-cross).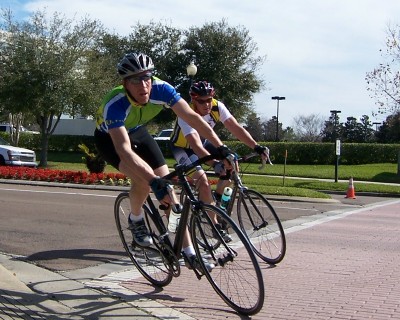 Our Mottos
"Personal Improvement," "Teamwork," and, above all, "Have Fun!"
Dave Z., 2007 Lake Mary Criterium
Club Staff

USA Cycling Licensed Level 3 Coach
NSCA Certified Strength & Conditioning Specialist
Latest Updates

27 Sep 2015 - Great fun was had by one and all at the Cyclo-Cross at Raytown BMX cyclo-cross races this weekend. Two days of racing on, near, and around the Raytown BMX track and facility in Raytown, MO. Osceola Velo Club had three racers out there each day with Pat Schlager finishing 9th Saturday and 9th Sunday in Single-Speed, Conner Rainey finishing 10th and 14th in Men's Cat 4, and Pete Williams finishing 15th and 19th also in Men's Cat 4. Pat S. and Conner R. continue to rack up the KBCXR points in their respective categories with Pete W. scoring his first KBCXR point on Saturday. Check out the photos.
20 Sep 2015 - First race of the 2015 Kansas Cyclo-Cross Season (and first race of the 2015 KBCXR (Kansas Best Cyclo-Cross Rider) points series) over in Leavenworth, KS at the Buffalo Bill Cyclo-Cross Race. Osceola Velo Club was well represented with Ian Pepin finishing 14th in Men's Cat 5, Pat Schlager finishing 8th in Single-Speed, Conner Rainey finishing 10 in Men's Cat 4, and first-timer Pete Williams finishing 21st in Men's Cat 4. Only a handful of KBCXR points scored, but still, good racing, Team. Check out the photos.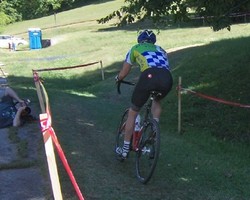 Pete W., 2015 Buffalo Bill Cyclo-Cross Race